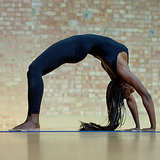 To help prevent wrist injury during yoga, there are certain steps you can take to avoid placing them in a compromising position. Follow these five tips during your next yoga class in order to stay on top of things - literally! – with care.
It's all about alignment: The best way to prevent any yoga injury is to focus on proper alignment. You may be frustrated if a teacher is constantly coming over to adjust you, but think of it as a thoughtful lesson. Once you become aware of what proper alignment feels like in a pose, you'll find that you're able to correct yourself – no teacher required. Making sure your body is in the right posture is some of the best defense there is against wrist injury.
Let all four limbs do the work: Many wrist issues come from putting too much weight on the hands and not allowing the lower body to share in the balance. If you're in a pose where you're balancing on your hands and feet, like Downward Dog, take a moment and shift your weight back and forth between your hands and heels. Once you find that sweet spot in the middle where all four limbs are sharing the weight, that unhealthy (and unnecessary) stress will be taken off of the wrists.
Stretch and strengthen beforehand: Tight wrists that have been typing all day need to be loosened up before shifting gears into yoga poses. Something as simple as making fists and rolling out your wrists before class can make a big difference in your comfort level. It's also a great idea to try a few of these strengthening wrist exercises at home. Once you do these exercises regularly, things will start feeling more comfortable in yoga class.
Take your time with arm balances: Jumping into arm balances takes much more than sheer arm strength, and powering into these poses too soon can lead to major wrist issues. Your whole body needs to be prepared for these advanced postures - not just your arms and wrists. Being brave and trying new things is necessary to further a yoga practice, but only move into these postures when you have a teacher to spot you or can use a wall for support.
Do the "Jackie Chan": According to yoga teacher Kathryn Budig, the secret to stronger, more stable postures where you're on your hands comes from deep within the serratus anterior, the muscle connects the front ribs to the shoulder blades. Kathryn says if you mimic Jackie Chan's kung-fu stance – "elbows bent, biceps tight to the body, forearms out" – you'll feel the serratus anterior engage, and your upper body will be in a much safer position. Engaging takes the pressure off your wrists to do all the work! You find much more comfort hanging out in hand-balancing postures when you've incorporated this tip into your practice.
weight loss
POPSUGAR Fitness
Filed under Fast and Easy Weight Loss Tips by on Feb 13th, 2014. Comment.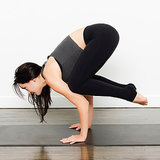 Sticky yoga mats offer you sufficient cushion to support joints and muscles, but for the duration of the first handful of months of use, it's extremely common for you to slip and slide close to a brand name-new high-high quality mat. The very very best way to split in your yoga mat and stay away from slipping about is to simply use it as usually as you can, but there are a few techniques to expedite the method to make your mat feel like home faster.
Try out a salt scrub: Offering your new mat an "exfoliating" treatment method can support crack down the initial layer and assist you locate steadiness in poses. Sprinkle your mat with a blend of sea salt and heat drinking water, and both wipe it down with a stiff-bristled brush (if you have a single) or a cotton washcloth. When the weather is heat, some individuals have identified that leaving their mats out in the solar on a hot working day can support crack them in as well.
More than yoga: Will not roll up your yoga mat as before long as your apply is above! Stomp about with bare feet as you observe your favorite Television set demonstrate, or shift by means of a swift training video on your mat. The more you use it, the far more it will loosen up – you just want to get creative with how considerably you might be making use of your mat. Hopefully, getting your yoga mat out much more will encourage you to be energetic a lot more often.
Seize a towel: If it is tough to get grounded on your new mat, laying a towel on top of it can support. Initially, you may well have to readjust poses more often than you would like, but it really is the greatest way exercise on your new gear and not really feel held again. A large seaside towel will do the work, but we are partial to the Yogitoes Crop up Mat Towel ($ 64) that does a excellent job gripping on to a sticky mat. Far outside of the split-in period, you may be in a position to use it for the duration of very hot yoga and sweat-inducing Vinyasa courses. No a lot more slipping or sliding close to you can just emphasis on your practice till you might be ready to break in your mat.
weight loss
POPSUGAR Health
Filed under Fast and Easy Weight Loss Tips by on Feb 11th, 2014. Comment.