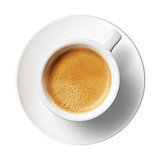 If you have friends who are serious about their Paleo diet, chances are, you've heard all about the benefits that come from drinking one drink: Bulletproof coffee. Thousands of people credit this high-fat, calorie-dense breakfast replacement with increased mental clarity, sustainable energy levels, and major weight-loss results.
Bulletproof coffee creator Dave Asprey spent years tinkering around for the perfect combination of ingredients that would offer similar benefits to the yak-butter tea he drank while in Tibet. "I had so much more energy, and I didn't feel sick at the altitude at all. I realized: there's something going on here. I just felt so good," Dave told Fast Company about the benefits he felt from drinking the Tibetan tea. In 2009, he perfected his blended breakfast; the official Bulletproof coffee recipe contains two cups of high-quality, single-origin coffee, at least two tablespoons of unsalted grass-fed butter, and one to two tablespoons of MCT (medium-chain triglycerides) oil, a concentrated extract of a type of fat found in palm and coconut oils.
If it sounds like a lot of calories, that's because it is. While a grande latte with whole milk from Starbucks clocks in at 220 calories, this recipe is anywhere from 310 to 810 calories, depending on just how much grass-fed butter and MCT oil you use – Dave says he likes to add up to six tablespoons of butter! All those calories might seem shocking, but once he started drinking his coffee concoction instead of eating breakfast, Dave says he lost 100 pounds.
So, how does it work? According to naturopath Dr. Weil, MCTs are beneficial for weight loss since they are metabolized very quickly in the liver, where they are burned as fuel rather than stored as body fat. Some studies, like this one, have found that MCT consumption can lead to modest weight loss or weight maintenance. In addition, the high omega-3 count in grass-fed butter has anti-inflammatory properties, which may improve gut health; the fat content in the drink is also said to improve brain function and energy levels.
If you're concerned with what health experts think, New York nutritionist Amy Shapiro, RD, told Well + Good NYC that Bulletproof coffee "can be a satisfying, energy-producing breakfast that provides many nutrients, satisfies hunger, and may cause your body to increase fat-burning, resulting in weight loss." And Dr. Weil calls the butter-filled beverage "a worthwhile experiment for the sake of both taste and health if you are inclined to try it." With that said, there is a possibility for weight gain. According to Amy, Bulletproof coffee "can add a lot of high-fat calories, if the rest of your day doesn't consist of clean eating," so it's best to introduce a Bulletproof coffee habit to a Paleo or low-carb diet for optimal results.
If you'd like to try your own blend of Bulletproof coffee, you'll need a high-quality, single-origin coffee free of mycotoxins (a type of chemical produced from mold that grows on coffee beans); unsalted, grass-fed butter (such as Kerrygold); and pure MCT oil. Dave also recommends steering clear of adding cow's milk, nut milk, honey, or sugar in your cup. Instead, stick with recommended additions such as cinnamon, coconut cream, or Stevia to make sure you don't "wreck the effects" of your cup.
Want to try more of the Paleo diet and curious about what's exactly on- and off-limits? Learn the staples of a Paleo diet, which foods you should avoid, and read through these general Paleo diet starter tips.
weight loss
Happy healthy you. | POPSUGAR Fitness
Filed under Fast and Easy Weight Loss Tips by on Jul 29th, 2014. Comment.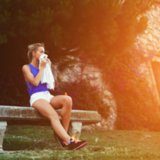 You're a go-getter, and you work out because you want results, but tacking on extra workouts during the week could actually be hurting your results. Trainer Adam Rosante, founder of The People's Bootcamp in New York, has some strong thoughts on the subject. Adam shares, "Working out six or seven days a week doesn't allow enough time for rest and recovery, which is one of the crucial elements of fitness." And he's right – overdoing it in terms of time spent at the gym can actually keep you from the changes you're working for.
"You always have to remember that when you're working out, you're not actually building muscle, you're tearing it down," Rosante says. "It's in those recovery periods that the recovery and reparation happens and hotness occurs."
While you can still stretch and stay active during a day off, Adam believes that adding on more days of intense workouts is not the way to lose weight or gain muscle. Instead, Adam recommends splitting up your routine into sections of two or three days, making sure to schedule rest days in between. "Five days a week allows the flexibility for you to stay on program and also keep those rest periods nice so your body can recover." So if you're looking to achieve ultimate hotness, kick back, relax, and take a day off.
weight loss
POPSUGAR Fitness
Study finds they seem to improve survival for people taking 'water pill' diuretics