Sip on This: Strawberry Mojito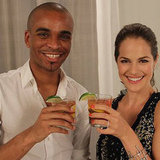 Toasting at happy hour doesn't have to mean drinking a ton of calories. To reduce added sugars, chef Travis London uses fresh fruit to sweeten his drinks. The strawberries in his healthier mojito not only add flavor but antioxidants too. Learn how to make this refreshingly light cocktail, then print out the recipe and get ready to muddle.
weight loss
FitSugar
Filed under Fast and Easy Weight Loss Tips by on Mar 31st, 2012.