Never Count the Pounds: Why Muscle Mass Is Critical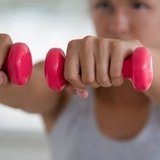 It's hard not to stare at the scale after resuming your fitness routine once the holidays are over. Dinner tables covered with scrumptious dishes, and festive drinks and treats can quickly do a number on your overall body weight. But getting back in shape after indulging during the holidays shouldn't just be about the number on the scale. Here's why muscle mass is the secret to optimal health and staying slim.
More than just calories: Building muscle mass helps strengthen connective tissues, which increases bone density. By doing this, you're reducing your risk for injury, and your chance of getting osteoporosis later in life.
Here are more reasons why muscle mass is important .
weight loss
FitSugar
Filed under Fast and Easy Weight Loss Tips by on Dec 28th, 2011.