From Instruction Schedules to Meal Options: Everything You Want For Your First Race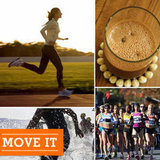 With the Boston Marathon a few weeks away, race season is just around the corner. And whether you consider yourself new to the running scene or a seasoned vet, it's never too early to start training for one of Summer or Fall's big races. From a 5K and beyond, here are all the tips and training plans you need to make yourself race ready.
The Beginning: 5K
Running 3.1 miles might seem like a daunting feat, but with a plan in hand, the process becomes so much easier. A 5K is considered a gateway race, and once you complete it, you will want to take on longer distances. Here are three posts to help you finish the race:
Doubling Up: The 10K
Once you have a 5K under your belt, it's time to tackle a 10K. The 6.2-mile race means adding to your weekly mileage to help build up endurance.
Learn how to prepare for a half marathon, marathon, and triathlon after the break!
weight loss
FitSugar
Filed under Fast and Easy Weight Loss Tips by on Apr 3rd, 2012.