Drink Your Greens: Green Juice and Smoothie Recipes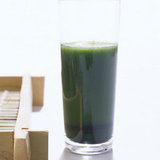 Green juice and green smoothies are everywhere these days, and it's no wonder since they're such nutrient-dense beverages. So what better way to celebrate St. Patrick's Day than to drink your greens? If you've been wanting to join the green monster movement, try making your own: it's going to taste fresher, be less expensive, and be made to your exact liking. Here are a handful of green juice and green smoothie recipes to get you started!
---
weight loss
FitSugar
Filed under Fast and Easy Weight Loss Tips by on Mar 15th, 2012.